MPWH.COM INSIDER REVIEW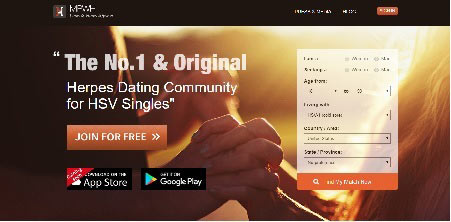 As the sister site of PositiveSingles.com, MPWH (meet people with Herpes / HSV) is equipped with most features of positivesingles.com. Here the users can share their experiences, find friends or love among the other members who are affected with herpes. MPWH has become a robust platform where you do not have to worry about being judged for your health or diseases. As the website is more about engaging your hopes and interests to find love and life after herpes, you can find many profiles for friendships, casual datings or serious relationships. Mpwh is very serious about users' privacy and never sell it out, maybe you can know more about this site.
Support Platforms
Only Available for Android, Desktop and Mobile website
COSTS
Currently, the membership of MPWH is the same as PositiveSingles. Users are free to join MPWH and can access many site's features. Enjoy all the functions you need to upgrade your profile to gold member:
1 Month: $29.95 (about $1 per day)
3 Months: $59.95 (about $19.95 per month)
6 Months: $95.95 (about $15.95 per month)
TOP FEATURES
You can meet your local people with herpes / hsv.
Build your own profile on MPwH to let others know you more
100% anonymous - get in touch with other singles on MPwH will never reveal your privacy (unless you stick to that!)
In your profile you can add photos, questionaires and as much description and information as you like.
Send "winks" to other users to show your interest.
Send others emails by using the MPwH email service.
Use quick and advanced search to find the exact users you want to date.
Use MPwH Blogs and Forums to creat your activities and know others activities.
From "My Hits" features, you can know who have viewed and who request to view your profile ASAP
You can control the users by adding them to your favorite or block lists.
You can upload 26 photos to your profile.
Profile verification - other users can be sure you are who you say you are with profile verification.
Special offer, that is one quality suggestion approved, you can get one month free gold membership
FAQs and customer service.
Users Experience & Editor's Verdict
MPWH is a community where people can meet other members of sexually transmitted diseases for fun, love, and friendship. MPWH.com is also one of the most popular herpes dating sites we have reviewed here, its members over 75,000, covering all age groups, races, social backgrounds and more, and it has brought people with herpes together from the world for the long term and serious relationships.
MPWH claims itself as a "welcoming, warm-hearted community for herpes singles to chat with other herpes friends". "I must admit that it is a great site to meet people,learn about HSV and HPV and build ever lasting relationships"- Jackmes(an anonymous users from MPWH.com)
Building your own profile on MpwH is pretty convenient, it allows users to cover as much as personal information as they wish. Users create their profile by completing some simple steps on personal information, such as which gender they are looking for, which kind of sexually transmitted diseases they are, and what's your nationality...
There's also a profile investigation to enrich your profile which covers health, education, lifestyle, occupation, location and more. This is also very common in any other dating sites, thus, other users will feel comfortable when they talk with you because some of them have the same condition as you.
For new users on Mpwh.com, it's very easy to find your partner, you just need to use the quick search or advanced search functions(we have listed above), especially the latter one, which can pick up more exact result for you. After you find your partners, it's easy to get in touch with them, you just need to send the "winks" or use the chat message/email to show your interest, we believe this first greeting will break the ice more or less. There are two problems which may not meet your requirement:
MPWH doesn't provide users much information when it comes to features that are specifically aimed at STD-daters. Other sites we have reviewed this field provide users with STD into banks, STD Q&As, medical advice and support counselors, like Positive Singles.
MPWH limits its blog and forum features, so you will feel not as easy as other same kinds of sites we have reviewed.
It's our pleasure to review MPWH and know why it is so popular in the herpes dating world. The site is being changed and hopes more exciting will come. Whatever, it is worth trying if you do not have strict requirements to yourself, or you can take a look at other herpes dating sites we reviewed